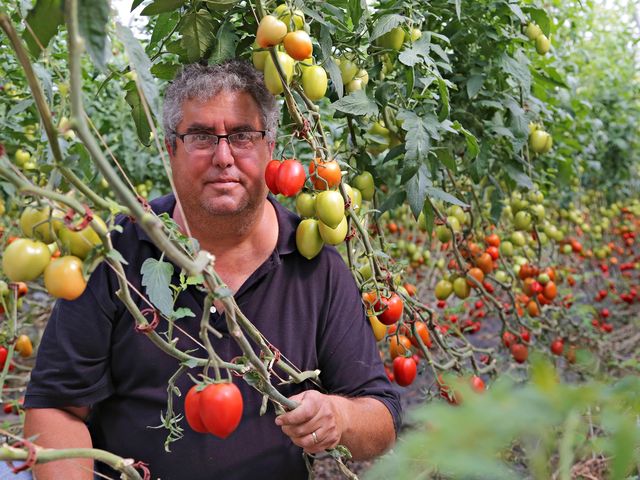 Neal Brooks
President & Founder
Growers Market, Inc., Abby Lee Farms' parent company, was established in 1976 by Neal Brooks, the President and Founder. Starting from his backyard, Neal slowly and successfully grew the company to what it is today. As of today, Growers Market, Inc. has three prime locations around Arizona. These three different climate facilities allow Growers Market to grow everything naturally. One of the key concepts and mission is to ensure the public that everything is locally grown.
Abby Lee Brooks is the youngest daughter of Neal and Felice Brooks. Neal started growing and selling plants in 1974 when he was 12 years old. In 2005, Neal purchased 763 acres of farmland in Geronimo, Arizona. He began growing fruits and vegetables on a small-scale along with hundreds of acres of alfalfa. In 1985, Neal purchased a 3.5 acre greenhouse in Phoenix, Arizona. In 2013, Neal transformed his 3.5 acre, 120,000 Sq. Ft. plant greenhouse into a high-tech hydroponic growing facility. The modern Abby Lee brand was born.
We strive to provide the freshest possible, locally grown and acclimated plants and produce at the most competitive prices available. Our company-owned fleet of trucks provides daily delivery, which allows our customers to only sell the freshest products available anywhere. We pride ourselves on quick response to our customer's needs.
Phoenix, AZ
Phoenix, AZ – The Phoenix location, located just west of 7th Avenue on Baseline, sits on 4 acres covered with poly houses. This helps keep infrequent frost away, as well as the dreadful summer heat.
Willcox, AZ
Willcox, AZ – The Willcox Greenhouse sits on 155 acres with a 1,000,000 Square foot greenhouse which consists of house plants, geraniums, and combo pots. This 1,000,000 Square Foot greenhouse is very high-tech and has all of the bells and whistles needed for maximum production. Willcox, AZ has some of the best water in the state.
Geronimo, AZ
Geronimo, AZ – "The Farm" – sits on 763 acres. This is where we farm: hay, 40 acres of Elderica Pines, and 20 acres of fall mums and color production. The Farm also consists of a 100,000 Square Foot greenhouse.